The Langatun
"SINGLE CASK LINE"
The Single Cask Line are limited single cask bottlings of the Langatun Distillery. The more time goes by, the older the whiskies in our cask store become and accordingly we also bottle older and older whiskies, which all come to the market as single cask bottlings and melt the palates of whisky fans.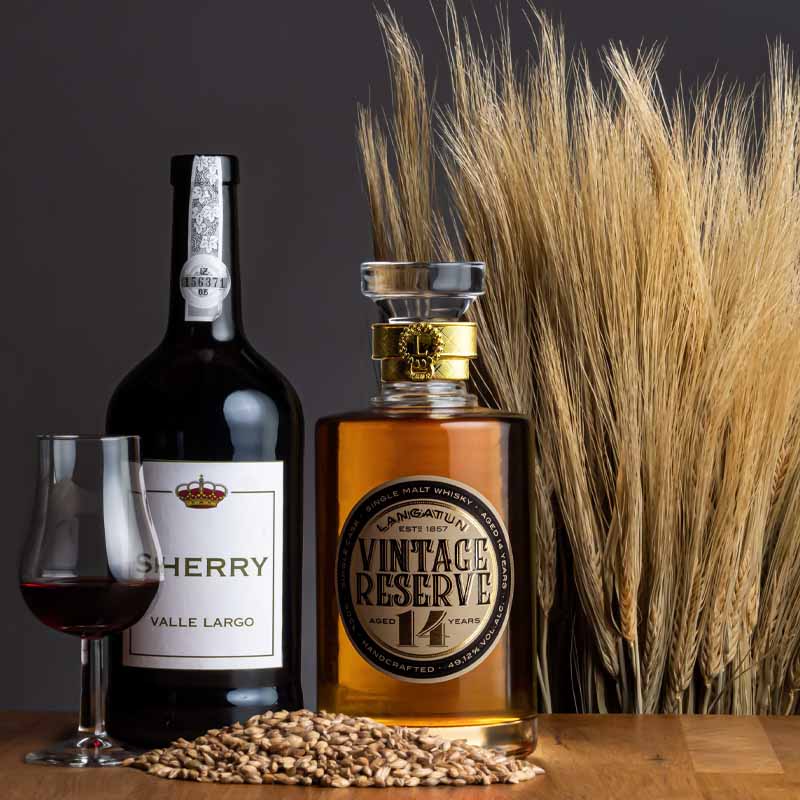 Langatun Vintage Reserve means that these are single cask bottlings from the very beginning and have been allowed to mature in the cask for well over 10 years. This particular bottling is one of the first casks filled at Langatun and one of the last from the early days that has not yet been drunk. It is a single malt distilled by Hans Baumberger on 03.03.2008 and then filled into a 225-litre barrique for 14 years of maturation. Previously, a beautifully aromatic Fino Sherry slumbered in this barrel, transferring its fruity aroma to this exceptionally aromatic and smooth whisky. We bottled this noble drop on 09.09.2022, which resulted in just 498 bottles.
LANGATUN 10 YEARS 1st EDITION
The first 10-year-old whiskey of Langatun Distillery was launched in 2018 and was then already sold out right on the release date. In total, the barrel with the number four, which was previously home to a Cardonnay white wine, gave just 432 bottles. This whiskey distinguished wonderful wood, and fruit notes. A wonderful bottling, which in the following years should get many descendants with the "10 Years" label.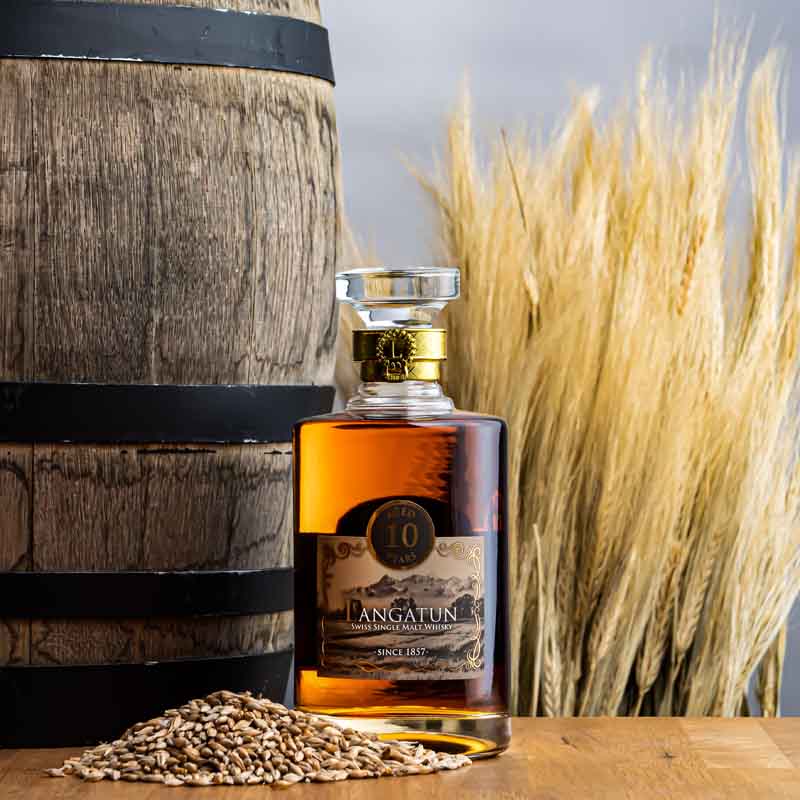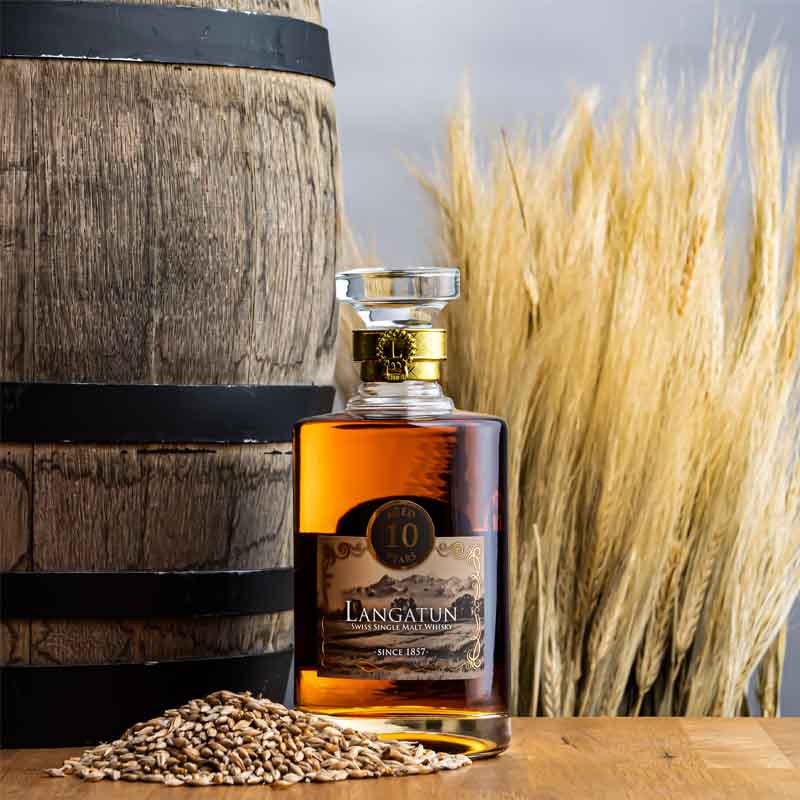 For the second time Langatun brings a 10-year-old single malt whisky on the market. This second "Langatun Whisky 10yrs" is an absolute highlight and comes with a beautiful color of bright amber. Also this time a lot of heart and soul was invested to complete the masterpiece. The 49.12% alc by volume generously brings out the flavors. Dried figs with warming wood notes with an interesting fruitiness rise to the nose. The Pinot Noir Single Cask perfectly combines dark chocolate flavors with nuances of pink pepper. In the end, flavors of licorice, its own spice of sherry and red wine linger on the palate for a very long time. A real pleasure. The Langatun 10yrs 2nd Release scored 95 out of 100 points in the Jim Murray Whisky Bible 2020, making it "Swiss Whisky of the year".

Aroma: Chocolate banana, polished wood, dried figs.
Palate: Demerara sugar, pink pepper, dark chocolate.
Finish: liquorice, sherry spice, long lasting.
This led to the development of two typical American whiskey types: The Bourbon with at least 51% corn content and the Rye with at least 51% rye content. By law, both beverages may only be aged in new, charred barrels. This unique Swiss Rye Whisky is very smooth on the palate, trumps with long-lasting caramel and vanilla notes, which are accompanied by a plummy fruitiness.

At 44% Alk.Vol. this Rye Whiskey is wonderfully pleasant on the tongue and contains a light earthy pepper note at the end.
With approx. 59.7% Alk. Vol. this Swiss Rye Whiskey is powerful and intense. The earthy pepper notes noticeably accompany the pleasant sweetness.

Aroma: Fine rye aromas, oak, vanilla, plum.
Palate: Light sweetness, fine balanced tannins, caramel & fruit flavors.
Finish: Long lasting, warming.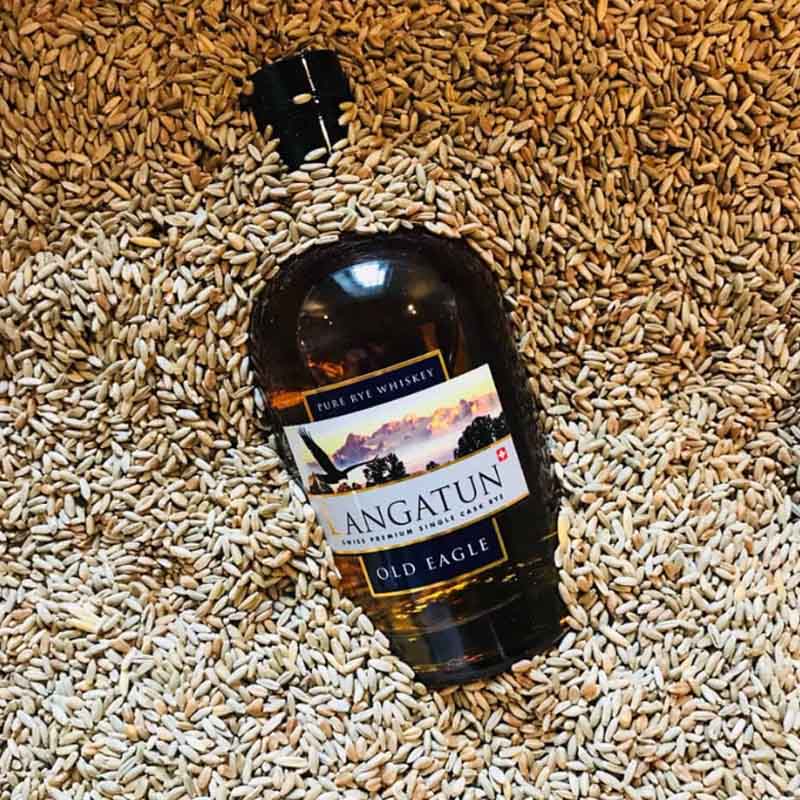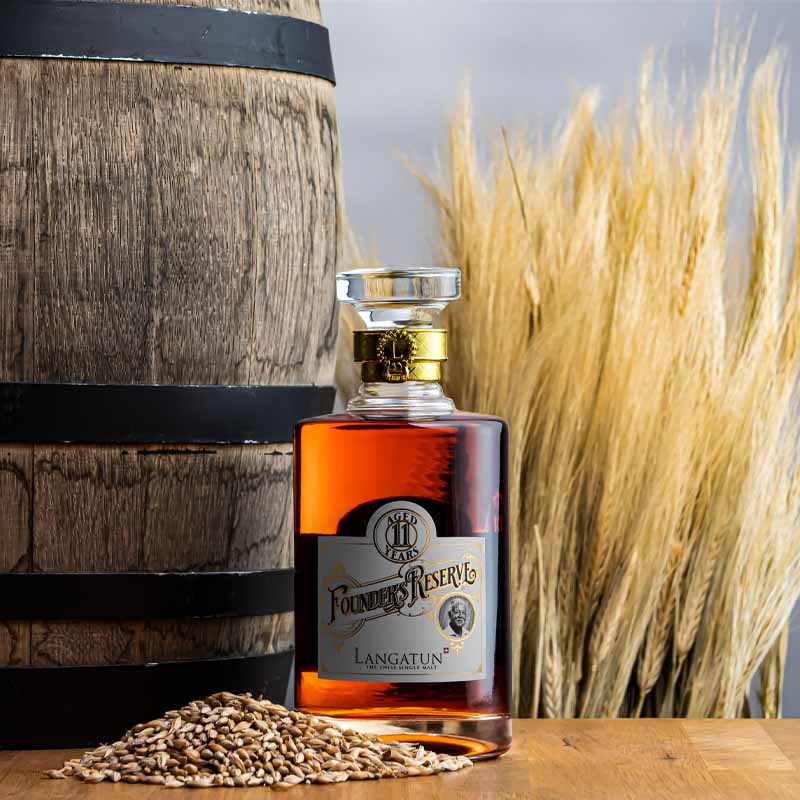 For the first time, Langatun Distillery launches an 11-year-old whiskey. An absolute rarity in the field of Swiss whiskey. This is a single cask bottling and is limited to just under 400 bottles. This single malt was carefully distilled on 11.10.2010 by Hans Baumberger, the founder of Langatun Distillery, and filled into a selected oak cask for a long maturation. This barrel previously held the finest sherry from Spain, which now gives the whiskey a nice fruity note. In honor of Hans Baumberger comes this trouvaille from the early days of Langatun Distillery on the market. It is one of the oldest still existing barrels and is bottled at 49.12% Vol. Alc. The long storage in the first fill sherry butt gives the whiskey incredibly intense and complex flavors.

Color: Chestnut
Aroma: Woody notes are in the foreground accompanied by aromas of caramel, corn, panettone, raisins, cinnamon buns, candied pineapple, grapefruit, marzipan, cherry sponge.
Taste: very full-bodied and complex, spicy, panettone, raisins, dark chocolate, roasted hazelnuts, maple syrup, wood, overripe pear, light wine notes, liquorice, alpine herbs
Finish: very persistent and intense, some licorice at the beginning, very subtle honey sweetness, stewed plums, prunes, wood and some fino sherry at the end.
There are no limits to the barrel selection
The important point in the selection: The delivery of excellent aroma of the previously stored liquid. All these barrels are completely disassembled, repaired and reassembled into new refreshed barrels depending on their condition.
Coveted barrels are American White Oak barrels, Sherry barrels, Port wine barrels, Red wine (such as Pinot Noir, Rioja, Burgundy, Chateauneuf-du-Pape, etc.) and White wine (Sauternes, Chardonnay, etc.).