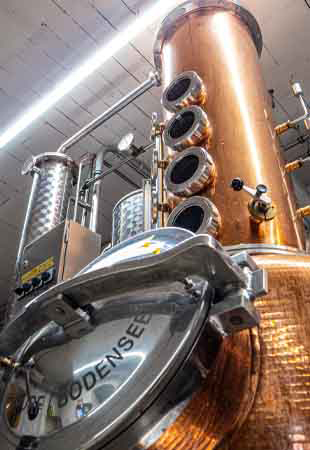 The Langatun Distillery
"Where the Aare meanders past the castle in Aarwangen stands our time-honored distillery in the Kornhaus, built in 1616. "Langatun" is the Celtic name for Langenthal, where our story began with Jakob Baumberger and the founding of his distillery in 1857. In 2005, Hans Baumberger III took up his great-grandfather's vision and began producing the handcrafted Langatun Single Malts.

Langatun Distillery soon grew to become the largest Swiss whisky distillery thanks to a loyal and ever-growing following. Hans Baumberger's pioneering spirit, his specialization in storing and refining the whiskies in a wide variety of wine casks, and his striving for the best quality still characterize the Langatun whiskies today. The careful distillation process and the careful selection of casks give the single malts their incomparably soft, complex and delicate body.

Langatun whisky combines tradition and passion in every drop."