The Langatun
"LIQUEUR LINE"
The origin of liqueurs begins as a remedy in the 13th century. Monks researched alcoholic medicines, which they flavored with herbs, spices, seeds, fruits and honey. The word liqueur also originally comes from Italian. "Liquore" literally means "liquid". There are different methods of production such as maceration, distillation, digestion and percolation...: Among the most common are maceration and distillation. Liqueurs can be drunk neat as an aperitif, digestif, used to mix for various long drinks, enjoyed with a dessert, used as a "topping" of vanilla ice cream or as an accompaniment to other desserts. For Langatun's liqueurs, old recipes have been rummaged through and new balanced, smooth and elegant recipes have been made with a lot of knowledge and innovation by our master blenders. Discover in our liqueurs the variety of different interesting flavors.
The Langatun "Gold Bee" whiskey liqueur is based on the "Old Deer" single malt whiskey, which is then sweetened with a very tasty honey from Yucatan (Mexico) and reduced to a pleasant 28% vol. alc. In addition, the "Gold Bee" whiskey liqueur is still flavored with natural vanilla and tropical spices round out this lovely liqueur to a whole. The bouquet of the "Gold Bee" whisky liqueur contains both an intense honey aroma and the pleasant scent of whisky. The sweetness of the honey, as well as the complexity of the spices together create a perfect harmony.
The "Gold Bee" is perfect as an aperitif, as an accompaniment to a dessert or as an ingredient in a cocktail mixer.

Aroma: Floral honey & subtle malt notes.
Palate: Sweet honey and tropical spices.
Finish: Persistent harmony between whiskey and honey.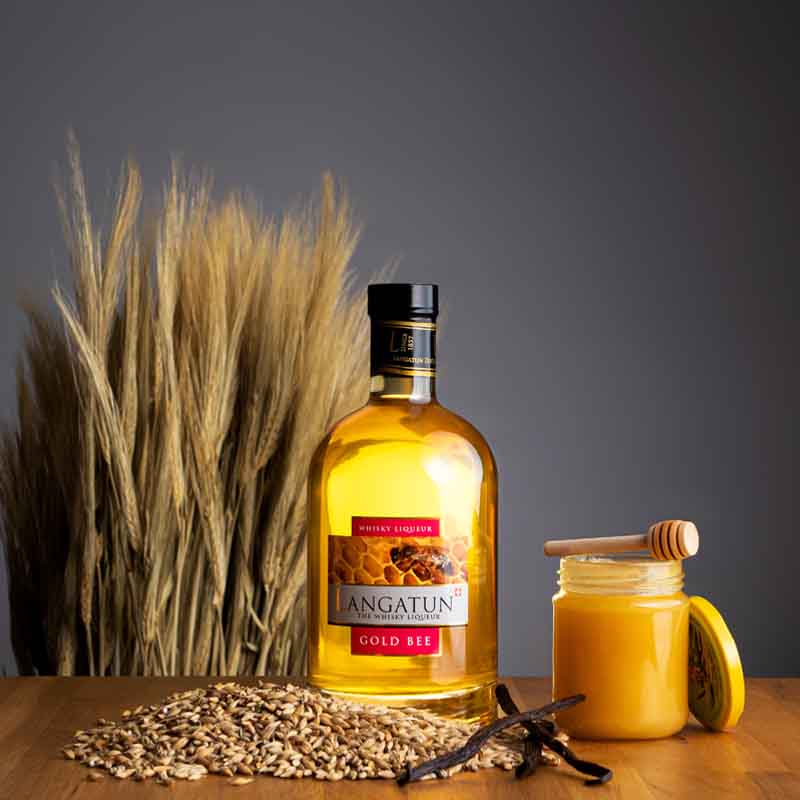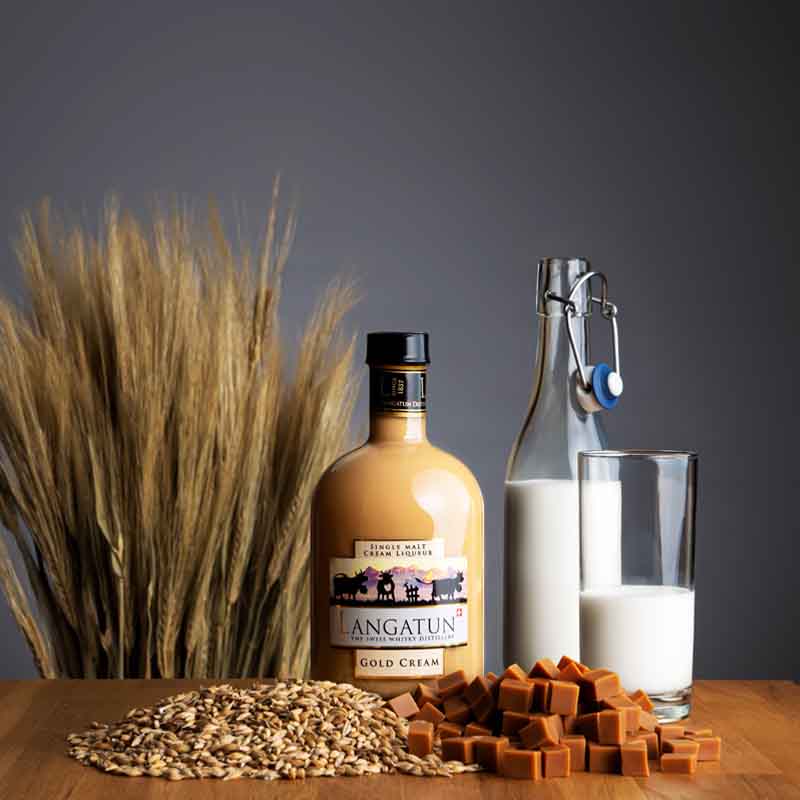 SINGLE MALT CREAM LIQUEUR
The Langatun Gold Cream is characterized not only by its special flavor, but also by its creamy soft texture. Creamy sensual pleasures à la "crème brulée" can be found in this exquisite product. Pure pleasure is guaranteed. The Gold Cream impresses with its perfectly balanced ratio of whisky and cream. The alcohol content is barely noticeable. It can be enjoyed on many occasions; with ice cream, as an ingredient for delicious cocktails, for baking or preparing cakes or simply pure or on ice. The uses of Gold Cream are many and varied.
Always enjoy Langatun Gold Cream well chilled, but not from the icebox. Because of the rather low alcohol content of 18% vol. Alk. there is a risk that the cream liqueur, like all cream and egg liqueurs, freezes in the freezer and thus becomes inedible.

Aroma: The nose is reminiscent of grandmother's burnt cream.
Palate: Nice balance of whiskey, cream & sweetness, this harmony of the liqueur speaks for itself.
Aftertaste: Fine lingering soothing warming full-bodied feeling.
The recipe of the "Malt" and Whisk(e)y liqueurs goes back to the very popular Heatherwine production more than 1,000 years ago. The sweet spirit originated in Ireland, where the recipe was passed down from generation to generation. From the medicinal recipes with whiskey, honey and herbs developed over the centuries, a variety of flavors that is unparalleled. For our Gold Capricorn, we rummaged through old recipes and with a lot of knowledge and innovation, our master blender created a new recipe of his own. Various herbs, spices and fruits give the Gold Capricorn a pleasantly complex bouquet. It is balanced, smooth and elegant, can be drunk neat, used to mix various long drinks, enjoyed with a dessert, used as a "topping" of vanilla ice cream or as an accompaniment to other desserts.

Aroma: Orange zest, vanilla.
Palate: Velvety soft sweetness tangerine ice cream.
Finish: Vanilla and light honey note.
It's never too late to learn whisky!
With our Show Distillery we will introduce you to the world of whisky making. You will go step by step through the whole journey with our master distiller and you can use your new skills when choosing your whisky!