The Langatun
"HERITAGE LINE"
The Langatun Heritage Line is a tribute to the traditions and the art of brewing and distilling of the Baumberger family. Almost 150 years later, we continue Jakob Baumberger's vision and still use the original and excellent Langenthal spring water.
The whole line represents the great value of unspoiled nature, which we celebrate with every drop of our premium handcrafted "Langatun" single malt whisky.
Langatun Whisky "Old Deer" is produced from 100% pure barley malt. Thanks to the careful selection of high quality yeast and the best European barley, a rich blend of vegetal and fruity aromas can be detected already in the first days of fermentation. These exceptionally sweet accents can also be found in the finished product. Our time-consuming and meticulous double distillation process gives "Old Deer" its incomparably soft, delicate and malty character. In addition, the maturation in sherry and chardonnay casks gives this fantastic whiskey its outstanding complexity and elegant aftertaste. At 40% alc. by volume, this single malt whisky is wonderfully light, fruity and sweet. At 46% alc. by volume, this single malt whisky is pleasantly fruity, beautifully aromatic and delicate. At 62% alc by volume, cask strength, this single malt whisky is strong, voluminous, fruity and beautifully aromatic.

Aroma: Floral barley with hints of sweet red berries.
Palate: Complex with fresh fruit and raisins, vanilla and a hint of oak.
Finish: Long lasting and velvety smooth.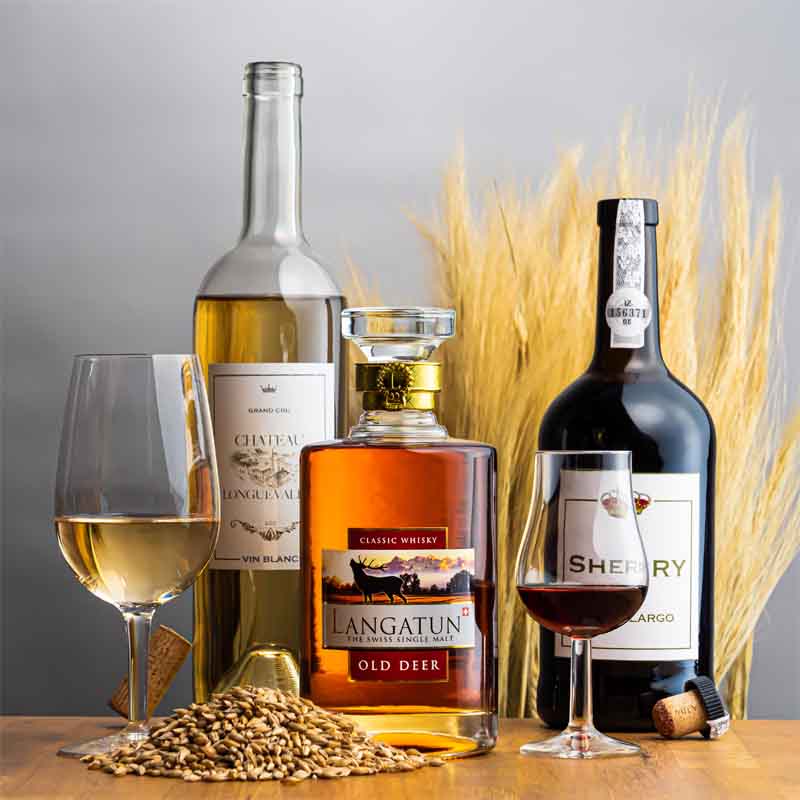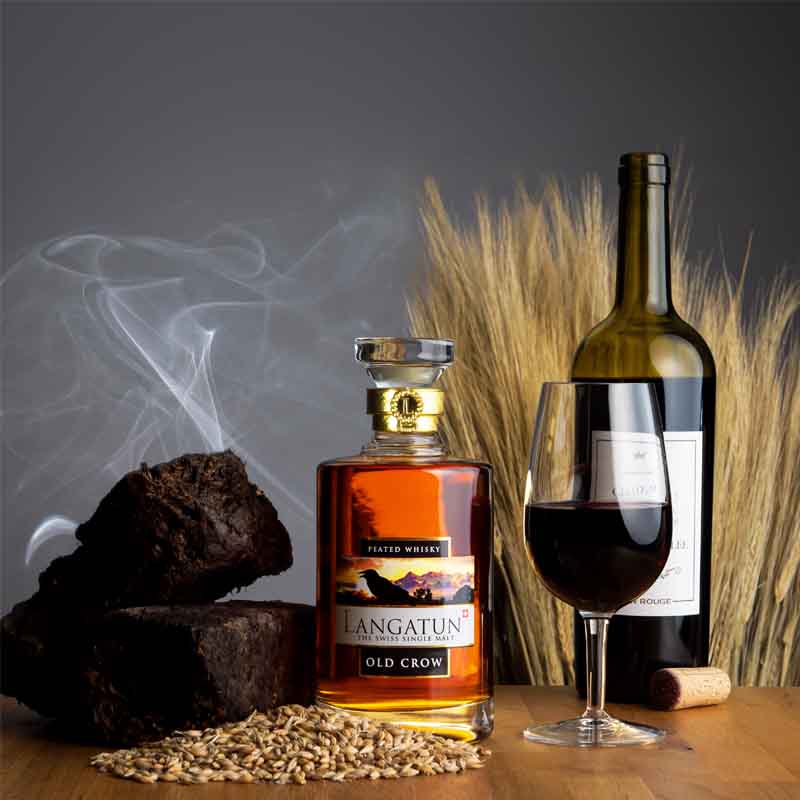 Langatun Old Crow is the newest baby in the Langatun family. It is a smoky, peaty whiskey. The gestalt malt of this single malt whiskey is specially smoked with peat. This means that during the malting process, the barley is dried with smoke from burnt peat, which absorbs the smoke aroma, which then gives the finished whiskey its wonderful smokiness. Langatun Old Crow is one of the first whiskies in Switzerland - indeed, one of the first whiskies in mainland Europe - to be produced using this process. The Langatun "Old Crow" shows itself with a beautiful color of amber and reddish nuances. A delight for lovers of fine peaty and smoky whiskies.

Aroma: Sweet smoke and tobacco notes.
Taste: Smoky, salty caramel, sweet smoke, a hint of red wine.
Finish: Warming, sweet smoke of tobacco & dark chocolate and peanut butter.
SINGLE MALT WHISKY - SMOKY WHISKY
Langatun Old Wolf is the second peat-smoked single malt whiskey of the Langatun family. The balance between fruity and smoky notes is the focus here. We have achieved this by blending different casks from our cask store. The juicy fruity notes come mainly from the sherry casks used, which bring a classic sweetness to the whiskey. The smoky part comes from a distillate where peat-smoked malt is the origin. This is then matured in spicy oak barrels, where red wine was previously stored. The result is a captivating variety of flavors, which comes along in typical Langatun manner buttery soft. The Old Wolf is thus a whiskey for every occasion and makes a great trap in the glass with its reddish brown color.

Color: Reddish brown
Aroma: caramel, toasted almonds, very subtle salt notes, ripe peach, forest honey, stewed cherries, sweet smoke discreetly in the background
Taste: intense, very spicy, slightly sweet, dried fruit, dark chocolate, roasted nuts, wood, cloves, peat smoke harmoniously embedded
Finish: aromatic, subtle tannins, rather dry, woody, light smoke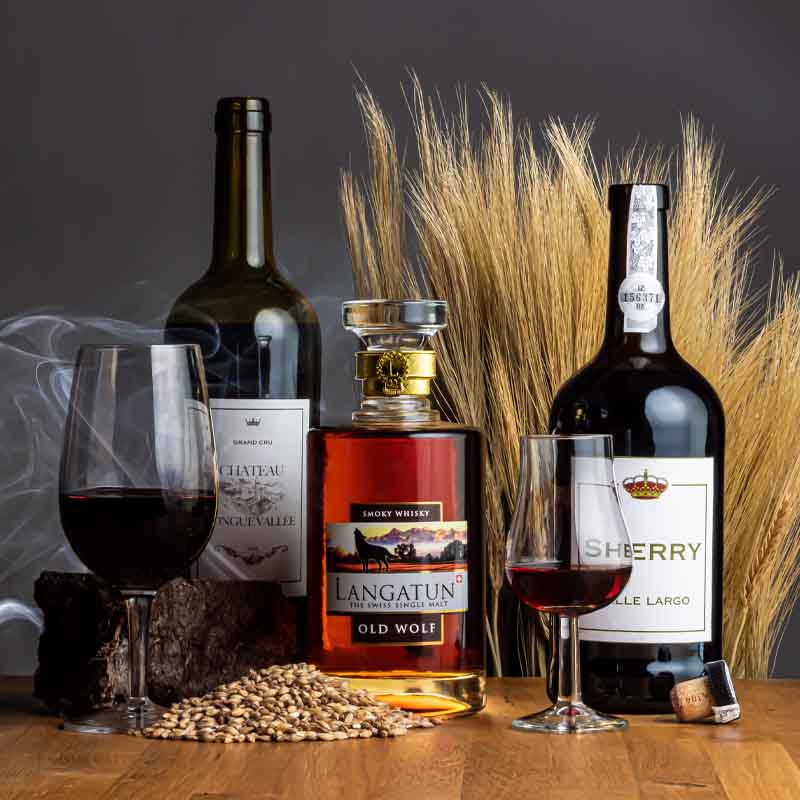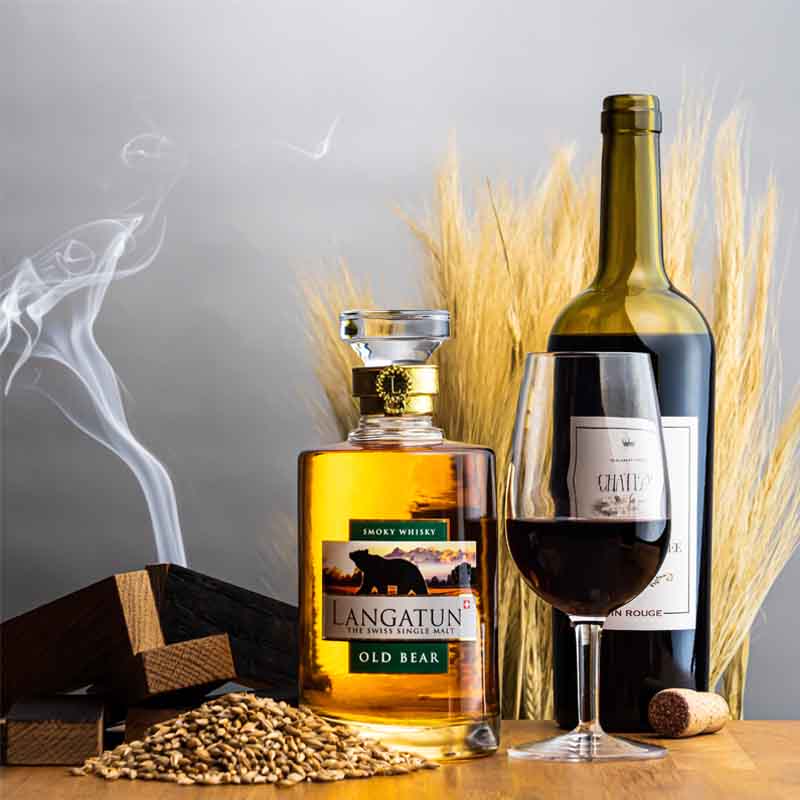 SINGLE MALT WHISKY - SMOKY
The Old Bear is a tribute to Jakob Baumberger, who founded the proud history of "Langatun" from 1857. The company logo of his first brewery was adorned for decades with a proud bear. Old Bear is a smoky 100% barley malt whisky. It is made from a blend of the best origin barley malt smoked over beechwood and fermented with a selected English stout yeast. During the drying of the germinated barley, smoke is added to the drying air, the aromas of which are deposited on the barley malt and reach the finished product through the further processing steps. Old Bear is stored in oak barrels in which red wine was previously aged. Traces of this can be found in the Old Bear. The Langatun Old Bear "Smoky" is currently only available in 46% Vol. Alk. At 40% alcohol by volume, this single malt whiskey remains smooth and mellow, despite its intense aroma. At 46% alc. by volume, this single malt whisky is pleasantly smooth and mellow, despite its intense aroma. With about 62% vol. Alk. this single malt whiskey comes incredibly rich, aromatic and bursting with power.

Aroma: Oak notes, smoke, toasted notes, honey, phenolic with nice complexity.
Palate: malty flavors, nice balance between sweetness and wood, spices, grape flavors.
Finish: Subtle smoke with vinous undertones

Old Bear CP scored 96/100 in Jim Murray's Whisky Bible 2013, and was ennobled as "Whisky for the Gods".

2019 - GOLD Spirits Selection by Concours Mondial de Bruxelles.
2020 - GOLD World Whiskies Award
ORGANIC SINGLE MALT WHISKY
The Langatun "Old Woodpecker" is a pure single malt whiskey, which is produced only with the finest barley from controlled organic cultivation. Of course, also in the further production process is worked according to the certified organic guidelines (ProCert, CH-BIO-038). The "Old Woodpecker" is aged in Chardonnay oak barrels, which gives it a fantastic fruity note, a tangy freshness and a nice spiciness paired with some sweetness. A nicely rounded aromatic single malt for those people who consume sustainably or simply want to enjoy an aromatic "dram".

Aroma: Fine sweetness, reminiscent of candied orange peel.
Palate: Beautiful fruity notes, caramel, with balanced tannins, light chili chocolate notes.
Finish: Fine lingering oak notes with caramel.

2019 - GOLD 96 /100 points Liquid Gold Jim Murray's Whisky Bible.
2019 - GOLD BEST WHISKY 2019 Swiss Whisky Award.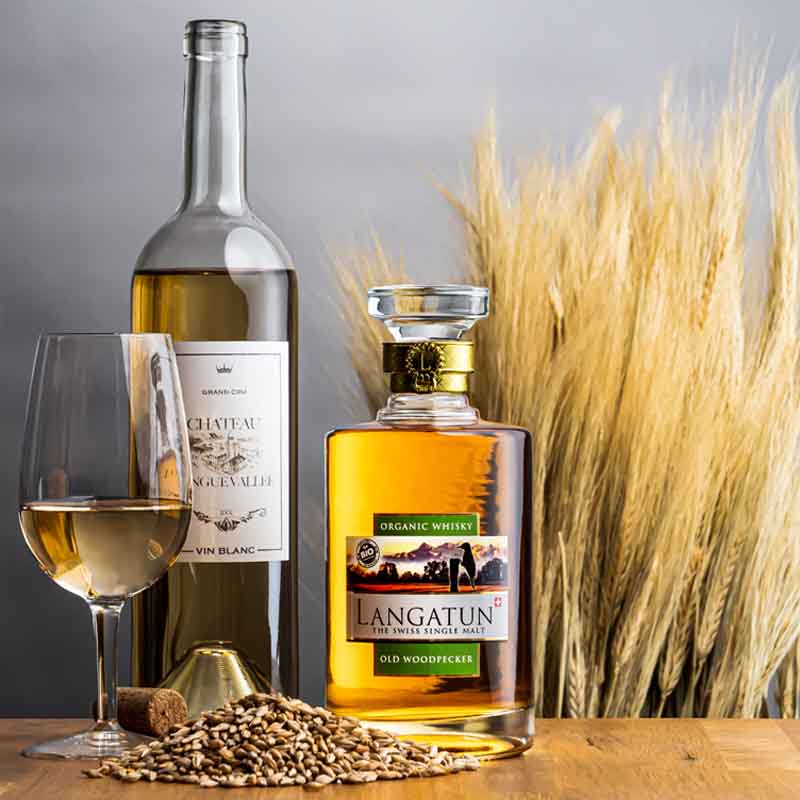 LANGATUN EVENTS TOUR & TASTING DEMANDS
Challenge your senses and explore the art of the whisky making process during the Tour & Tasting at the Langatun Distillery.